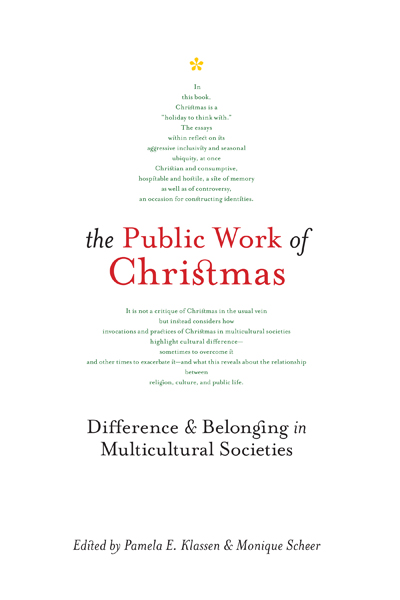 Christmas is not a holiday just for Christians anymore, if it ever was. Embedded in calendars around the world and long a lucrative merchandising opportunity, Christmas enters multicultural, multi-religious public spaces, provoking both festivity and controversy, hospitality and hostility.
The Public Work of Christmas provides a comparative historical and ethnographic perspective on the politics of Christmas in multicultural contexts ranging from a Jewish museum in Berlin to a shopping boulevard in Singapore. A seasonal celebration that is at once inclusive and assimilatory, Christmas offers a clarifying lens for considering the historical and ongoing intersections of multiculturalism, Christianity, and the nationalizing and racializing of religion. The essays gathered here examine how cathedrals, banquets, and carols serve as infrastructures of memory that hold up Christmas as a civic, yet unavoidably Christian holiday. At the same time, the authors show how the public work of Christmas depends on cultural forms that mark, mask, and resist the ongoing power of Christianity in the lives of Christians and non-Christians alike.
Legislated into paid holidays and commodified into marketplaces, Christmas has arguably become more cultural than religious, making ever wider both its audience and the pool of workers who make it happen every year. The Public Work of Christmas articulates a fresh reading of Christmas – as fantasy, ethos, consumable product, site of memory, and terrain for the revival of exclusionary visions of nation and whiteness – at a time of renewed attention to the fragility of belonging in diverse societies.
Contributors include Herman Bausinger (Tübingen), Marion Bowman (Open), Juliane Brauer (MPI Berlin), Simon Coleman (Toronto), Yaniv Feller (Wesleyan), Christian Marchetti (Tübingen), Helen Mo (Toronto), Katja Rakow (Utrecht), Sophie Reimers (Berlin), Tiina Sepp (Tartu), and Isaac Weiner (Ohio State).