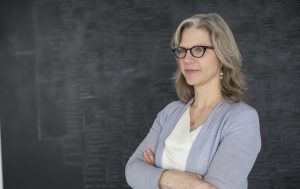 I research and teach about religion, colonialism, and gender in North America at the University of Toronto, where I am a Professor in the Department for the Study of Religion, with a graduate appointment in Anthropology. I was first drawn to the study of religion as a creative space for robust, interdisciplinary thinking about some of the most compelling concerns of contemporary life: how authority and power are imposed or cultivated within a life or a community; how technological change has altered bodies, imaginations, and the very notion of what it is to communicate; and how the past is a powerful tool for shaping the present, in the hands of both scholars and laypeople.
My work is largely historical and anthropological, and engages with several interdisciplinary fields of study, including media & print culture studies, Indigenous studies, museum studies, legal studies, digital humanities, and history and anthropology of medicine. I welcome inquiries from prospective graduate students interested in thinking critically about the question of religion, both in the sense of its genealogical formation as a concept and in terms of how religion is also a word of power that shapes the actions and histories of people, communities, and nations.
In the spring 2018, The Story of Radio Mind: A Missionary's Journey on Indigenous Land was published at the University of Chicago Press. follows the life of Frederick Du Vernet as he traveled on the land of the Anishinaabe, Ts'msyen, and Nisga'a, and listened to their stories. Transforming from an evangelical Anglican into a psychic researcher convinced of the spiritual power of telepathy, Du Vernet also became a strong critic of the evils of Canadian residential schools for Indigenous children. That same year, Ekklesia: Three Inquiries in Church and State, co-authored with Winni Sulllivan and Paul Johnson, appeared at the University of Chicago Press. My section in particular argues that any inquiry into church and state in the Americas requires careful attention to how ceremony, protocol, and invocations of the spirit have shaped all claims to sovereignty on this land, including those of settler-colonial nations. Co-edited with Monique Scheer, spring 2019 saw the publication of The Public Work of Christmas Difference and Belonging in Multicultural Societies with McGill-Queen's University Press, in which authors from Canada and Germany reflect on Christmas as a site of multicultural negotiation across the world.
I've taught at U of Toronto for more than twenty years, and consider myself very lucky to be surrounded by excellent colleagues and students. From 2014–17, I served as the Distinguished Visiting Professor in the Anthropology of Modern Religion, Ludwig-Uhland-Institut (LUI) of Historical and Cultural Anthropology, University of Tübingen. Currently, I hold the Anneliese Maier Research Award from the Humboldt Foundation (2015–2020); this award supports the Religion and Public Memory in Multicultural Societies Project, which I run together with Prof. Dr. Monique Scheer of LUI. Over the same period, I am also working on a SSHRC Insight Grant called "Supernatural Resources", together with collaborators and graduate students in Ontario and British Columbia.